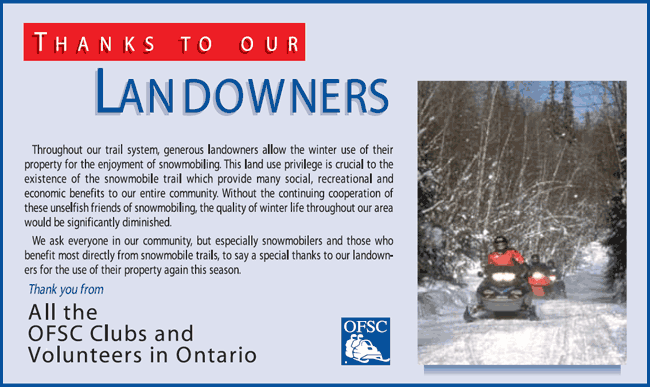 We thank our land owners for their support, without them we would not have trails. Please remember to respect them and their property so we can continue to enjoy this sport for years to come. This includes staying on marked trails. Our number one reason for lost access rights is snowmobiler's failing to stay on the marked trail.
As a special thanks to our land owners in 2008 we introduced our "Land Owner Appreciation" program which complimented the programs already in place by the OFSC. In our program alone, we were able to provide $3,000 in cash rewards which was raised through our various fundraising efforts. We hope to continue this program, so please support our fundraising efforts.
Included below is some information we provide our landowners.
This Land is Your Land Booklet (PDF) Large File = 2,542 KB
Prescribed Snowmobile Trail Land Permission Form (Word Version) File Size = 69KB
Prescribed Snowmobile Trail Land Permission Form – French (Word Version) File Size = 69KB