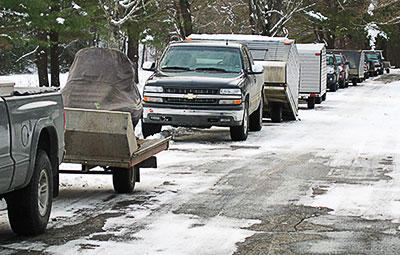 There are several options for day and overnight parking and loading of sleds in the BEAST network.
NE
– Jinkinson Side Road. The best option now is to park and unload at Jinkinson Road at the TCT/BEAST 200. Jinkinson Road is accessed from Hazeldean Road, or from Fernbank Rd. Most years volunteers also build a snow ramp here to load up/off.
– Dwyer Hill Park n Ride. With the opening of the 4 lane of Hwy 7 through to Ashton Station Rd, the Dwyer Hill Park n Ride is now not far from the TCT A trail as well. You can ditch bang Dwyer Hill Rd for about 1 km to get the the A trail/TCT intersection. We may look(if volunteers would like to step fwd and drive) to mark and groom this access stub just to the Park n Ride in the future. The club used to groom this section of ditch years ago.
SE (Richmond)
There are few sections of dead end road that has the BEAST 203 running into the road allowance. Easy for parking and unloading as traffic is light.
Garvin Rd west  of Joys Rd.
Brownlee Rd west of Eagleson Rd ( 203  re-routed to this area in 2016 )
SW (CP and south) 
Cemetery Side Rd. The E104A at Cemetary Side Rd, south on Fillans Rd,  is also a nice quiet spot to unload right on the trail. This is just east of Hwy 7 at Appleton Side Rd exit.
NW (North of Mississippi Lk ) 
None posted at this time.
Access to Adventure—The Big Map of Ontario Snowmobile Staging Areas
To make it even easier, here's a map of where you can trailer to, unload and hit the trails in Ontario. Each of these areas should be large enough for multiple rigs to park and unload safely. They should be recognized by the club, district, municipality or whomever has accountability for the property stating that snowmobile trailer parking is an accepted activity.