Some people are sad to say goodbye to summer, but snowmobilers in Ontario are revving up for the 2018 snowmobiling season. BEAST is working hard to ensure trails are prepped for when the snow comes. There's lots of trail work that needs doing and new volunteers are always welcome. So it must also be permit buying time and here's what riders need to know.
After four years at the same fee, all 2018 Seasonal Snowmobile Trail Permits (including Classic) have increased by only $10. This follows the approval of a spring recommendation from the Ontario Federation of Snowmobile Clubs to the Ontario Ministry of Transportation (MTO), which authorizes permit fees. Faced with rising operational expenses to deliver snowmobile trails and in support its of clubs and volunteers, the OFSC made a strong and urgent business case for the new fees, which barely cover the annual rate of inflation since 2013. The OFSC business plan also spoke to new fees being necessary to help cover the higher cost of continuing to purchase new groomers to improve trail quality and consistency. Since the 2015-16 season, the OFSC has invested $8.5 million to buy 35 new grooming units as part of its recently approved More On The Snow initiative.
Snowmobilers can take advantage of 30% savings on their 2018 Ontario Seasonal Snowmobile Permit. For the low fee of $190 they can enjoy a winter full of adventure on any of the available 30,000 km of trails connecting communities throughout the province. This early rate is only available for a limited time. The fees go up at midnight EST on November 1, 2017.
Once again. all permit sales will be online only. "Providing consumers with enhanced security, flexibility and convenience are just a few of the benefits of buying your permit online" says Remi Sauve, President of the OFSC. "Thank you for your support of organized snowmobiling in the province and we look forward to seeing you out on the trails this winter."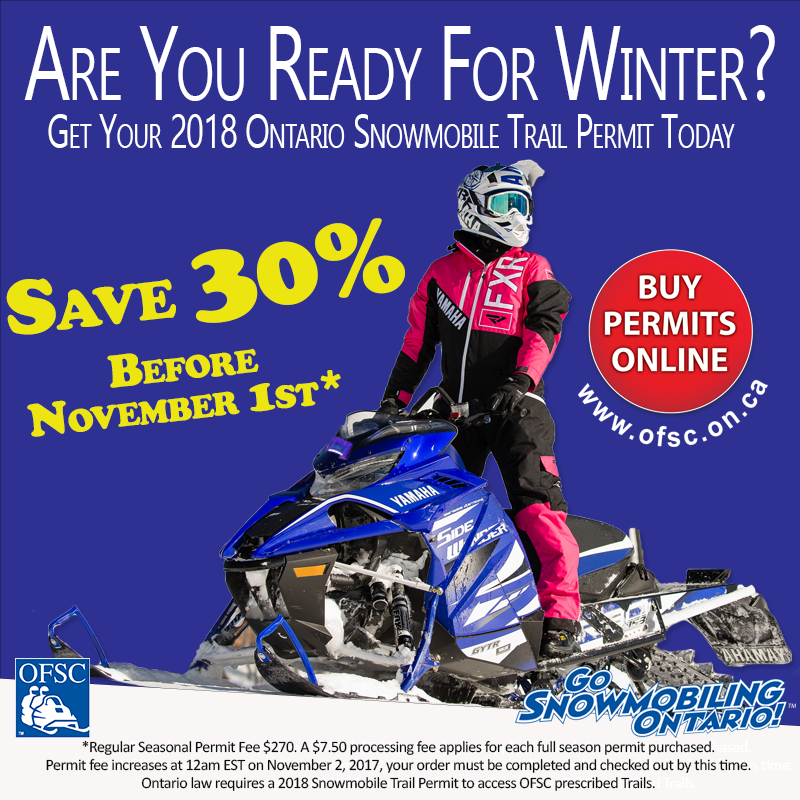 2018 Permit Pricing: .
Edit

| Permit Type | Full | By Dec 1 | By Nov 1 |
| --- | --- | --- | --- |
| Seasonal | $270 | $220 | $190 |
| Classic | $190 | $150 | – |
Other OFSC Fees:
Edit

| Other Fees | Cost |
| --- | --- |
| Multi-day (charge per day) | $35 |
| Replacement Fee | $15 |
| Seasonal-classic Administration Fee | $7.50 |
| Tracked Shipping Canada | $10 |
| Tracked Shipping USA | $20 |
| Special Event | $35 |
| Try our Trails | Free |