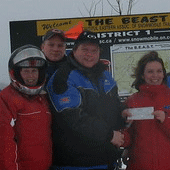 On January 29/06, 6 members of the BEAST headed off to Vars, Ontario to connect with the WOW riders that participated in a cross country ride to raise money for BREAST Cancer Research. 3 excited ladies will ride Polaris Snowmobiles for the next 8 days for the Ontario leg of this quest. BEAST President, Jim Lackey, his wife Debbie and son Alex, joined up with BEAST/ADSA members Dave Hunt, Brian Moreau and Stuart Spoor to help escort the ladies through the OFSC trails in District 1. The WOW riders, Nancy Ord (Parry Sound), Heather Mehlenbacher (Fergus) and Janet Lachapelle (Blind River) joined up with the group as well as other alumni from the District at KC's in Vars for supper and meet and greet. The ladies were overwhelmed by the reception and response of support for their first day on the ride.
This event is a special one for BEAST President Jim Lackey as his Mother passed away from BREAST Cancer and his Father also recently passed away from Cancer. It is the 2nd time that Jim has made this ride with the ladies and the 2nd time the BEAST has made such a generous donation.
On Monday morning, the 3 anxious riders headed out on their first full day of the ride which would take them from Vars, Ont. to Pembroke, Ont. Not a bad stretch for the first day! Jim had an extra treat as previous WOW Rider Sue Barlow (the WOW coordinator for Ontario) was with the group and had arranged for Jim to ride the VIP sled for the day which was a Polaris FST Switchback. A very cool sled!!The BEAST group joined up with various reps from the district and escorted the ladies through our trail system where we stopped to make a donation of $1,000 at the Simpson's Farm Billboard sign. The ride paused briefly at the home of Nancy and Jim Emery (thanks for for the rest stop) and continued on up into West Carleton trails and eventually to Arnprior where we turned back for home. All trails were in excellent condition given the low snow conditions and the ladies appreciated the smooth ride!